Tile Menu
Last Update June 20, 2013
Right clicking on each tile gives you access to the Tile Menu where you will find the options common to all Tiles that allows you to open the main menu, close the tile and exit the tile menu (Cancel): you can exit the Tile Menu also by clicking outside of it.
The option Open a new tile near this can be found by right clicking on all Tiles bearing a single security and quickly opens a new Tile.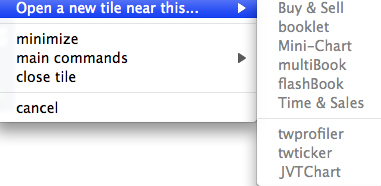 The new Tile will immediately appears attached to and right after the original one showing the same security. Using this procedure to open a new Tile instead of drag&drop may be convenient if the workspace is crowded.
The option Maximum tile height increases the height of the Tile to the maximum possible and therefore only appears when needed.
The most complex Tile Menus are in the flashBook, flashBoard, booklet, time&sales, monitor and heatmap Tiles and they are described on the their help pages.