Libera
Aggiornato al 14 giugno 2023
Libera platform has been designed to make investment management even simpler and more immediate. In its desktop version, it allows you to keep an eye on your portfolio and track market trends from a single screen.


Libera: the new way to invest with Directa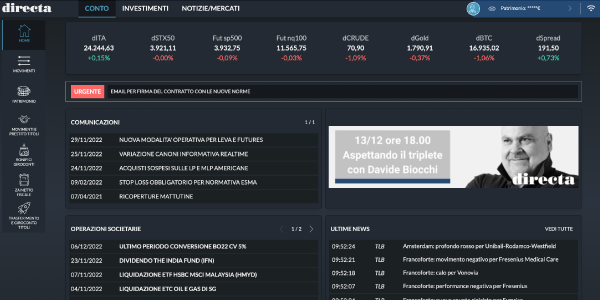 In the first screen that appears after logging in, there are six central areas that display:
Current Asset
Favorite indices
Communications
Upcoming training sessions or operational updates
Corporate actions
News of the day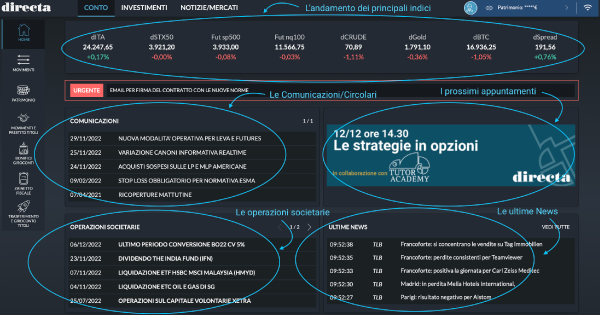 At the top, there are four tabs: ACCOUNT, INVESTMENT, NEWS/MARKETS and Stock Search which allow users to navigate through the main sections of the platform.
In the ACCOUNT section, which appears first, on the left side, there is an intuitive menu with access to all available options and information, including:
Movements
Assets
Transactions and Security Loan
Bank Transfers
Fiscal Backpack
Transfer of Securities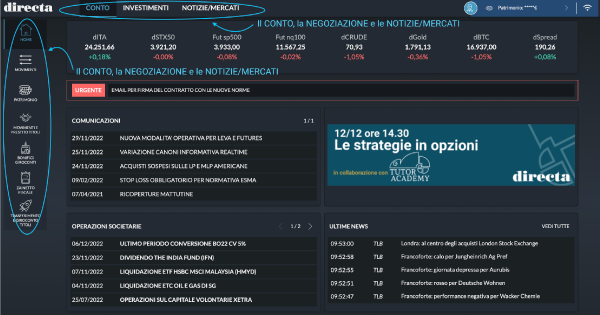 From INVESTMENT, you can access the list of securities and the operational section of the platform.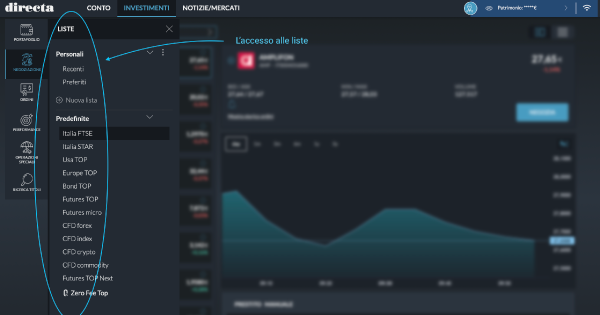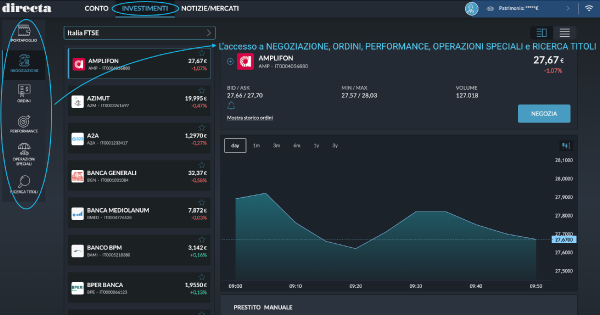 In the left menu, the following options are available:
Portfolio
Negotiation
Orders
Performance
ETFs PAC
Special Operations
Stock Search
Placing an order is very easy: simply select
Negotiation
, choose the desired security from the list, and click on
Negotiate
.
A window will open for entering the order, where you can specify the usual details such as quantity and price, and then click on buy or sell. Where applicable, by clicking on the two arrows between quantity and value, you can reverse the order input mode and set the order counter value instead of the quantity. The corresponding number of shares will be automatically calculated.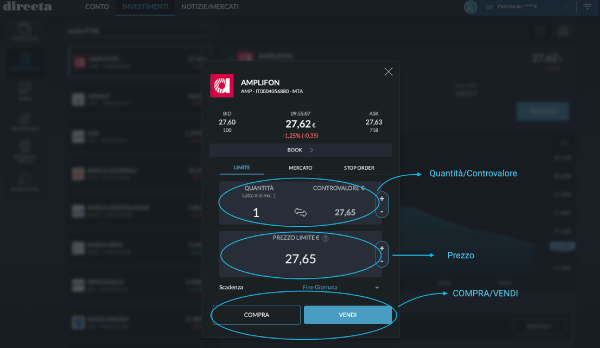 | | |
| --- | --- |
| From the Stock Search, you can add a security to the list by clicking on the circle next to its name. By clicking on the name, you can access the summary page with its data, from which you can open the order form by selecting negotiate. Alternatively, to directly open the order form, simply click on the square with the letter N located on the left. | |
In the third and final section, NEWS/MARKET, we find the following options in the sidebar menu:
News: Provides access to a list of news articles, presented in chronological order with the most recent ones at the top. Clicking on the title opens a window where you can read the entire article.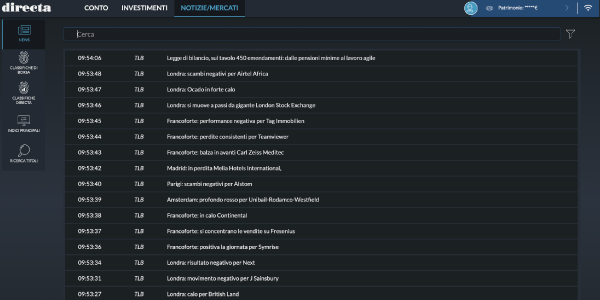 Market Rankings: Provides rankings based on the trading activity of Directa's clients. Throughout the trading session, the lists of most traded stocks, stocks with the highest presence in portfolios, most sold stocks, and under the open interest section, the open long and short positions on major futures are updated.
Main Indexes: Displays the performance of the main stock market indices.
Stock Search: Takes you to the same screen accessible from the INVESTMENT section, allowing for quick access to trading.