Crypto ETPs CoinShares
CoinShares - Building the future of investing
Listed on Nasdaq Stockholm,
CoinShares
is Europe's leading alternative asset manager specialising in digital assets.
Since 2015,
CoinShares
has offered innovative and reliable
Exchange-Traded Products
to investors seeking a
convenient way to add crypto exposure
to their portfolios.
---
Promotion for Directa Customers
From September, 15th 2023,
ZERO fees trading
on a pool of
CoinShares
products:
The promotion is valid only on buy orders
with minimum trade value of
€ 500
until December 31st, 2023, afterwards the minimum trade value will be
€ 1,000
The products list is available
here
---
The objective of an
ETP
is to
replicate the performance of an underlying asset or benchmark
with
maximum efficiency and precision
. Physical ETPs achieve this by purchasing the actual asset they are designed to track.
Not all ETPs are created equal
CoinShares Physical ETPs
are structured first and foremost for investor protection:
Custody: Assets are held securely with Komainu, a regulated digital asset custodian, to meet institutional investors' needs with industry-leading security technology and risk compliance standards. Komainu uses hardware security modules and cryptographic security protocols for an institutional-grade custody solution.

Limited Recourse: CoinShares Physical ETPs prevent commingling of assets between products, limiting investors' exposure to the asset underlying the ETP.

Bankruptcy Remote: CoinShares Physical ETPs are structured to be bankruptcy remote with ring-fenced assets, protecting investors' interests from counterparty default.

Competitive and Transparent Management Fees: CoinShares Physical ETPs offer low or even 0% management fees, making crypto investing accessible without hidden costs.

A Listed Company, for Increased Trust: CoinShares International Ltd is listed on Nasdaq Stockholm, providing transparency through regular reporting, adhering to strict accounting standards, and maintaining best-in-class compliance.

Bitcoin
powers a
global payment and monetary system that does not rely on central third parties
, paired with an
internet-native asset
that cannot be confiscated or inflated away.
Related Product: CoinShares Physical Bitcoin (BITC)
Asset Highlight: Ethereum
Ethereum
provides a
secure yet flexible infrastructure for Web3
(the internet's next generation) and decentralised finance (DeFi).
Related Product: CoinShares Physical Ethereum (ETHE)
Crypto: a powerful diversification tool
Source: Bloomberg. CoinShares. data available as of close 28/6/2023

Data derived from a balanced 60/40 equity/bond portfolio, with an equal weight detraction to allocate to Bitcoin, Gold, MSCI World total return. Bloomberg Total Return 7-10 year bond. XBTUSD, Gold, MSCI World indices are used. Rebalanced per calendar quarter.


Simulated past performance is not indicative of future performance. Digital assets present a significant risk of capital loss.
Data and calculations are presented for illustrative purposes.

Investors aiming to effectively reduce their risk
are looking for assets with as low correlation as possible. This means
assets are moving independently from each other
, and makes for a diversified portfolio.
Crypto as an asset class has historically had quite
low correlation to other assets
.
CoinShares Staked ETPs: Built-in staking rewards
CoinShares stands out as the only issuer that offers investors transparent staking rewards for PoS crypto ETPs
. They provide a
unique
and
clear system
for distributing predictable staking rewards, ensuring that investors have visibility into the process and outcomes.
Staked Polkadot ETP Example:
Initial Coin Entitlement ("CE"): 1.0000000000 DOT

Management Fee: Reduced to 0.0% p.a.

Staking Reward Adjustment: +5.0% p.a.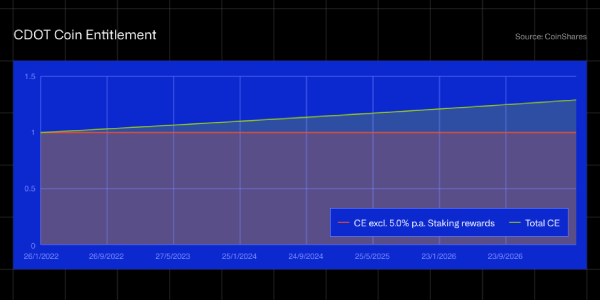 Underlying crypto performance + Additional staking reward = CoinShares Staked ETP return
Want to learn more about crypto and ETPs?
Crypto Exchange Traded Products are complex products, may be difficult to understand and have a high risk of capital loss. Past performance is not necessarily a guide to future performance. Investments should be made on the basis of the current prospectus, Key Information Document and other legal documentation available here:
etp.coinshares.com/physical
. The opinions expressed are current as of the time of dissemination and are subject to change without prior notice. This material should not be construed, nor relied upon, as investment advice, a recommendation, or a solicitation to buy or sell any securities or cryptoassets. To the extent permissible at law, CoinShares does not accept any liability whatsoever for any direct, indirect, or consequential loss arising from any use or reliance on this material. Investors are recommended to seek independent financial advice for any investment which they are contemplating.
---
Advertising Message for promotional purpose - This announcement does not constitute an offer to sell or a investment solicitation. Please read carefully the characteristics of the financial instruments on offer and its associated risks, which are also present in the information provided by Directa ("Preliminary information", Section C - Information on financial instruments). ETFs, ETCs and ETNs (ETPs) and Certificates are complex financial instruments, with a significant risk of loss of the invested capital and whose price may include implicit costs. Directa therefore recommends to read the product offer documentation and the KID/KIID document, which describes the operating methods, costs and risks to which you are exposed by making the investment. The term "leverage" is used to describe investment strategies aimed at multiplying potential profits and losses. Leveraged investments may be made with the aim of obtaining possible higher returns, however leverage not only amplifies gains but also any losses. The investor is also exposed to the risk of early termination of the investment and of total loss of the invested capital or even more than it. The issuer pays Directa a fee upon execution, classifiable as an inducement pursuant to the Consob Intermediaries Regulation: for this reason, a conflict of interest may occur.